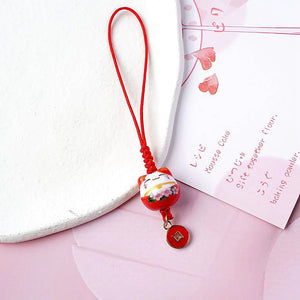 This beautiful phone charm features a beautiful hand painted maneki neko cat made from porcelain on a red cord.


The Lucky Cat, or welcoming cat, also known as maneki-neko, is a symbol that originated in Japan. In Japanese, maneki-neko means beckoning cat. The idea is that the cat is welcoming and greeting you. This lucky cat symbol is considered good luck to place in your home, office, or business.


The whole charm is approximately 11cm/4.33" in length, the cat charm is around 1.6cm/0.63" in length and 1.6cm/0.63" in height.