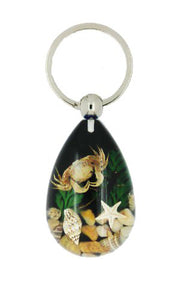 This cool and unique quality keyring contains real sealife including a real crab, starfish and shells! 
The sealife is encapsulated in quality hard resin on a black background attached to a keyring.

These beautiful creatures have died of natural causes before being encased in resin so you can clearly admire this creation of nature. Starfish have the ability to regenerate an arm, which helps them overcome some of their predators. Some of the vital organs are located in starfish arms as well, meaning that if an arm and part of the central disc are ripped off it is possible to grow an entire new starfish! Because of this amazing ability, starfish are also seen as a symbol of healing and regeneration.

This keyring is also completely adjustable in size at the back so will fit anybody. 

The resin part of this keyring is 5.5cm in height, 3cm in width and 1.5cm in depth. Keyring Diameter: 3.1cm. Comes Ready in a Gift Bag.