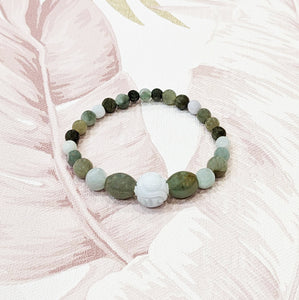 This stunning elasticated bracelet has been hand crafted using real genuine high quality grade A jade.
The classic design compliments the rich colour green of the jade making the pendant a particularly special and rare gift to someone you care about, or a gift to yourself.
Burmese Jade remains one of the highest quality variations of this gemstone known for its firmer, denser, and more lustrous shine. The Burmese Jade was the most important and sought-after historically in China and today it continues to be one of the most sought-after varieties.

Jade, is also known as the modern 35th wedding anniversary symbol.

Jade has many properties and meanings including purification, protection, it supports love and heart energy, it symbolizes gentleness and nourishment, harmony and balance.

Jade is also a symbol of good luck and good fortune in many cultures. So much so that in Asian cultures, new born babies are often gifted a jade bracelet.
The bracelet itself measures approximately 17cm/611⁄16inches in length and is elasticated.
Each bracelet comes ready in a velvet gift bag with a certificate of authenticity.