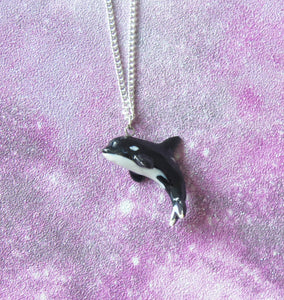 This stunning orca pendant is made from porcelain and is hand painted, then coated in a ceramic glaze.


As for symbolism, the Native Orca Symbol symbolizes family, romance, longevity, harmony, travel, community and protection. He is said to protect those who travel away from home, and to lead them back when the time comes. Orcas will often stay their whole life with the same pod and raise each calf with care.


Each pendant comes with a sterling silver plated chain which measures approximately 60.96cm/24" and comes beautifully presented in a gift box.


The pendant itself measures approximately 3cm/1.18inches in width x 2cm/0.79 in height.


PLEASE NOTE: Each pendant is made from porcelain which is delicate and should be handled with care. It is not advisable for them to be worn when sleeping, bathing or exercising.