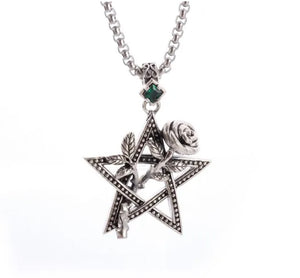 Introducing our Pentagram and Rose Men's Pendant – a harmonious fusion of mysticism and beauty. This pendant showcases a captivating pentagram intertwined with the delicate petals of a rose, blending the spiritual and the natural worlds into a single, striking design. Crafted with meticulous attention to detail, it's a unique accessory that symbolizes balance, transformation, and the enduring power of love. Whether worn as a symbol of personal beliefs, as an expression of your connection to nature, or simply as an elegant fashion statement, our Pentagram and Rose Pendant adds a touch of enchantment and sophistication to your style.


Each necklace comes complete in a velvet gift bag.

The pendant itself measures approximately 3cm/1.18" in width x 3cm/1.18" in height.

The chain measures 60cm/24" in length.