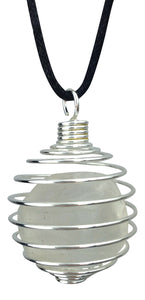 This stunning and unique pendant features an Crystal Quartz tumbled gemstone enclosed in a wire wrapped cage.
The pendant comes with a black cord and ready in a Gift Bag.
The Gemstone Quartz is also believed to have protective and healing powers and is said to help you think clearly whilst balancing your body.
The Pendants themselves vary in shape, size and colour as they are handmade and a natural product but a typical pendant is around 4cm/1.57" in height, 2.5cm/0.98" in width, 2.5cm/0.98" depth. The black cord is 53cm/20.83" in length.