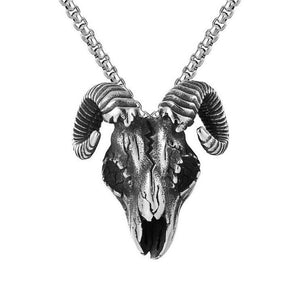 Introducing our Ram Skull Pendant Necklace – a bold and rugged accessory that exudes raw strength and primal allure. This necklace features a meticulously designed ram skull pendant, a symbol of power, protection, courage, and determination. Crafted with attention to detail and available in various materials and finishes, it's a versatile piece that adds a touch of mystique and masculinity to any ensemble. Whether worn for its symbolic significance or simply as a unique fashion statement, our Ram Skull Pendant Necklace is sure to capture attention and spark conversations wherever you go.

Each pendant comes complete in a velvet gift bag.


The pendant measures approximately 3cm/1.18" in width x 4cm/1.57" in height.

The chain measures 60cm/24".