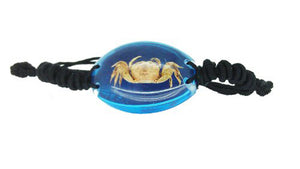 This cool and unique quality keyring contains a genuine real crab!
The real crab is encapsulated in quality hard resin on a blue background attached to a keyring.
These beautiful creatures have died of natural causes before being encased in resin so you can clearly admire this creation of nature.
Resin part: 3.5cm length, 2.3cm height, 1.3cm Width, Bracelet Diameter: 4.5 - 8cm (adjustable).
Comes Ready in a Gift Bag.