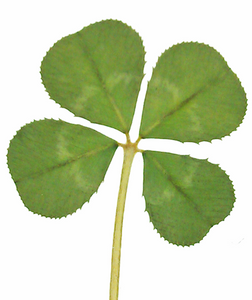 Here is a genuine, hand picked Four Leaf Clover from Trifolium repens more commonly known as the white clover plant. The Clover leaf is enclosed in transparent cello sleeve after it has gone through a 5 stage process that preserves the natural green colour of the leaf. The four leaf clover can be removed from the sleeve. These are a great gift on there own or can be used as a Good Luck Card Embellishment, can be given as a wedding or party favour or simply kept as a lucky keepsake. Comes in a Gift Bag with Certificate of Authenticity Card!
Ideal as a BIRTHDAY or GOOD LUCK GIFT for someone special or someone who is taking part in any exams or tests or for anyone who could do with a bit of luck in their life! Also makes the perfect personal lucky charm for anyone who wants their luck to change!
Our Lucky Four Leaf Clovers are the Real Deal...the ONLY Four Leaf Clovers that are or ever have been considered lucky are that of the White Clover Plant known as Trifolium repens. Any other species of four leaf clover is not rare at all and definately not considered lucky. ALL of our clovers are from the White Clover Plant Trifolium repens.