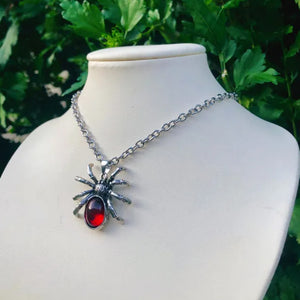 Introducing our Spider Pendant with Red Glass Crystal – a captivating and alluring accessory that merges elegance with a touch of mystique. This pendant features an exquisitely crafted spider silhouette adorned with a vibrant red glass crystal at its center. Crafted with meticulous attention to detail, it's a unique piece of jewelry that combines the enigmatic charm of a spider with the brilliance of the red crystal. Whether worn as a symbol of transformation, as a nod to your appreciation for arachnids, or simply as a bold fashion statement, our Spider Pendant adds a touch of intrigue and sophistication to your style.

Each necklace comes complete in a velvet gift bag.

The pendant itself measures approximately 3.3cm/1.3" in width x 3.5cm/1.38" in height.

The chain measures 48.26cm/19" in length.