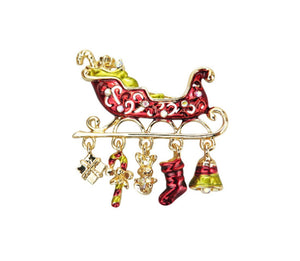 This high quality brooch is designed with Christmas in mind! It is the perfect gift for somebody to wear on Christmas day with a Christmas jumper or to turn any jumper into a Christmas jumper!
This delightful brooch is in the shape of Santas/Father Christmas's sleigh with beautiful charms hanging from it which include: a bell, a stocking, a present, a rabbit toy and a candy cane wrapped in a bow. It is gold coloured with multi-coloured crystals.
Measuring approximately 4cm/1.5inches wide by 3.5cm/1.40inches high.
Comes ready in a gift bag.