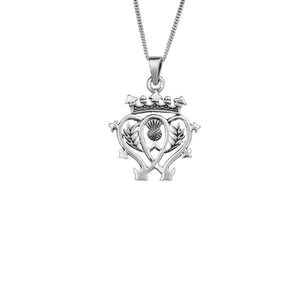 A highly attractive Sterling Silver Pendant, with a design based on the unique Luckenbooth. It will delight lovers of all things Scottish, and the unique and turbulent history of the country.
Crafted entirely of 925 sterling silver, it comes with a 16″ (40.6cm) Sterling Silver chain, and is shipped complete in a quality black and gold jewellery presentation box, with a leaflet explaining the history of the Scottish Luckenbooth.
It will make an ideal gift, and a lasting memento, for yourself or for someone you love.
The pendant is approximately 20.5 x 30mm (0.8 x 1.18 inches) in size.
The 'Luckenbooth'' dates back many centuries in Scotland. They gained popularity during the reign of Mary, Queen of Scots and still hold a significant meaning today.
'Luckenbooths' are said to be so called as they were first sold from "locked booths" in Edinburgh's Royal Mile.
Traditionally, they were exchanged between lovers on their betrothal, and subsequently were pinned to their first baby's shawl to protect the child from evil spirits.
These heart-shaped brooches, surmounted by the crown of Mary Queen of Scots, and often decorated with the Scottish Thistle, are one of the most romantic artefacts from Scotland's rich history, resulting in their enduring appeal.