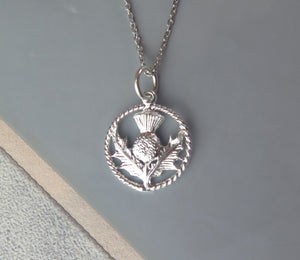 A highly attractive Sterling Silver Pendant, with a design based on the Scottish Thistle. It will delight lovers of all things Scottish, and the unique and turbulent history of the country.
The famous Scottish Thistle is the national flower and emblem of Scotland. It has been an important symbol of Scottish heraldry for over 500 years and also represents one of the highest honours the country can give an individual. Founded by James III in 1687, the Most Ancient and Most Noble Order of the Thistle is an order of chivalry which is bestowed to those who have made an outstanding contribution to the life of Scotland and the greater United Kingdom.
Thistles are found growing everywhere in Scotland but the insignia emblem of the Thistle can be seen all over Scotland, from the strip of the international rugby team and football clubs, to local businesses and major organisations and corporations, to the uniforms of police officers.
One legend tells of a sleeping party of Scots warriors that were saved from ambush by an invading Norse army when one of the enemies trod on a spikey Thistle. His painful cry woke the warriors who duly vanquished the invaders and adopted the thistle as their national symbol.
The Pendant comes with a Sterling Silver Chain measuring 45.7cm/18", shipped complete in a quality jewellery presentation box.
The Pendant measures approximately 1.7cm/0.67" in diameter.