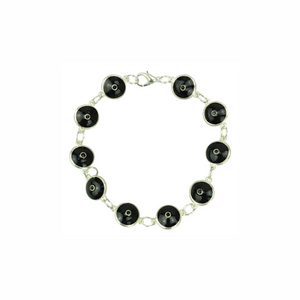 This attractive bracelet features beautiful black painted glass beads framed and linked in silver plated connections. The concept of the evil eye dates all the way back to Classical Greece, Ancient Rome and the Old Testament. It is a look that is believed to cause injury, misfortune or bad luck to whoever it's cast upon. It's also believed to be often cast by people unintentionally by means of jealousy or envy. Protective Evil Eye Talismans like this one are said to protect the wearer from the curse of the evil eye. The belief is still very strong around the world including the Americas, Middle East, Africa, Asia and Europe particularly in the Mediterranean region and also among Celtic areas.
Perfect as a good luck gift or a personal lucky charm.
This is a high quality piece in which you can feel the quality in it's weight.
The glass eye charms are 1.1cm/0.43″ in diameter and the bracelet is 19cm/7.48″ in length.
Bracelet comes ready in a Gift Bag.