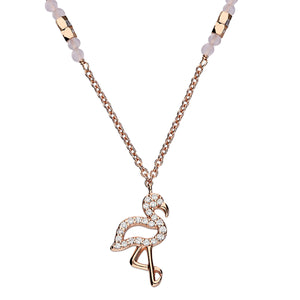 This stunning, high quality pendant is made from high quality solid 925 sterling silver and plated in 24k rose gold made into the shape of a flamingo which is encrusted with high quality Czech crystals. It also features pink and rose gold beads on its necklace.


As for symbolism, the flamingo encourages you to flourish in adversity and keep the happiness in your relationships. The flamingo symbolism reminds you that even if life is hard and painful, there is always beauty and love!


Perfect as a special gift for someone you care about or to wear yourself as a means of expressing your individuality and identity. Comes ready in a Gift Box.

Approximate Measurements:

Pendant - 1.5cm/0.59inches in width x 1cm/0.39inches in height.

Solid 925 Sterling Silver 24k Rose Gold Plated Chain length - 45cm/17.71".