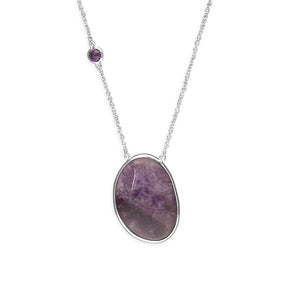 This stunning, high quality pendant is made from solid 925 sterling silver with a hand carved and polished amethyst made into the shape of an ovoid. The pendant also features a purple crystal on its high quality sterling silver chain.
As for symbolism, Amethyst is often viewed as the stone of peace, some believe amethyst's calming presence produces soothing dreams by bringing the dreamer more in tune with the Divine. This clarity and peacefulness also extends to the waking mind. Amethysts are said to help the mind flow freely in both mental and metaphysical dimensions.
Amethyst is also known for its healing powers, which are connected to your head space, and work to sooth your mind of any worries, stress, or tension alleviating headaches and migraines.
Perfect as a special gift for someone you care about or to wear yourself as a means of expressing your individuality and identity. Comes ready in a Gift Box.

Measurements:

Pendant - 2cm/0.79inches in width x 2.5cm/0.98inches in overall height
Solid 925 Sterling Silver Chain length - 40cm/15.75".