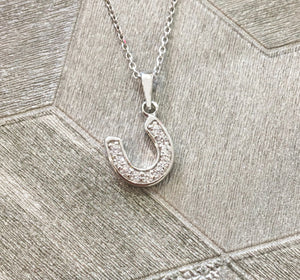 This beautiful Silver plated Lucky Horse Shoe Necklace is covered in Sparkling Czech Cubic Zirconia Crystals making it the perfect gift or lucky charm. Width: 1cm/0.39″, Height: 1cm/0.39″. The fine sterling silver chain measures 45.7cm/18".
This necklace also comes ready in a Gift Box.
In many places throughout the world, horseshoes are nailed above doorways or carried about as a lucky charm to bring the owner or inhabitants of a house good luck. Most people believe that to hang a horse shoe with the ends pointing upwards is good luck as it acts as a storage container for any good luck that happens to be floating by whereas to hang it upside down can be considered bad luck. There are many legends and folklore surrounding horse shoes, one of which is that the horse shoe invokes the 'sacred vulva' or crescent moon shape of pagan moon goddesses like Diana & Artemis and as such invites their protection. Other superstitions include that if the devil gets too close to a horse shoe he will get sucked in, that a witch cannot walk underneath a horse shoe and that a horse shoe can cure hiccups! Horseshoes by their nature are associated with blacksmiths and as smithing is considered a lucky profession part of this luck is transferred to the lucky horse shoes. Some people also believe that a horseshoe kept in someone's bedroom can help keep nightmares away!