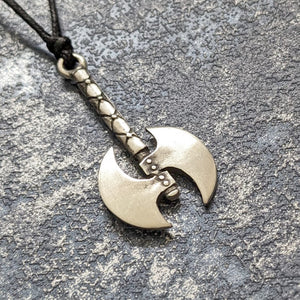 This stunning, high quality pendant is made from solid pewter and made into the shape of a Viking Axe.


The Viking axe is a symbol of Viking strength and bravery: Viking warriors used it on the battlefield. They had a single edge and the bottom of the blade is shaped like a hook, making it easier to hold.


Perfect as a special gift for someone you care about or to wear yourself as a means of expressing your individuality and identity. Comes ready in a Gift Box.


Measurements:
Pendant - 2.5cm/0.98inches in width x 5cm/1.97inches in overall height
Comes on an adjustable cord inside a velvet gift bag.