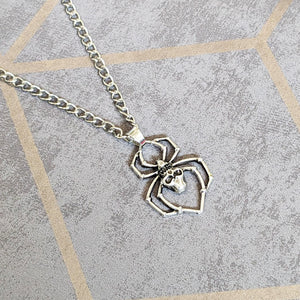 Embrace the spirit of Halloween with our striking spider skull pendant, a fusion of eerie elegance and gothic allure. This intricately designed piece features a skull adorned with spider motifs, exuding a captivatingly spooky charm. Encrusted with glistening gemstones, the pendant radiates an enigmatic gleam, blending the mysterious symbolism of the skull with the mystique of spiders. Symbolic of the cycle of life, the skull represents mortality, while the spider connotes creativity and fate. Meticulously crafted with attention to detail, this pendant is a bold statement of style and an embodiment of the enigmatic and magical aura of the Halloween season. Wear this pendant to add a touch of haunting sophistication to your ensemble, celebrating the mysticism and allure of the dark and enchanting holiday.

Each necklace comes complete in a velvet gift bag.

The pendant itself measures approximately 2cm/0.98" in width x 2.6cm/1.02" in height.

The chain measures 20" in length.