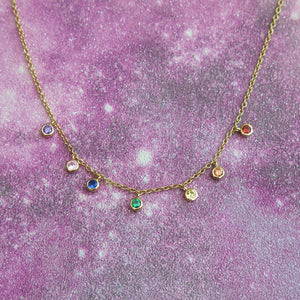 This stunning, high quality pendant is made from solid 925 sterling silver plated in 24k gold and features 7 crystals which represent the 7 charkras.


In Sanskrit the word chakra roughly translates to "wheel." The seven symbolic energy wheels in your body begin at the base of your spine and end at the crown of your head. ... Each chakra symbol incorporates the powerful circle as a reminder of our connection to the divine.


Perfect as a special gift for someone you care about or to wear yourself as a means of expressing your individuality and identity.


Comes ready in a Gift Box.

Approximate measurements: 
Solid 925 Sterling Silver Gold Plated Chain length - 46cm/18.11".