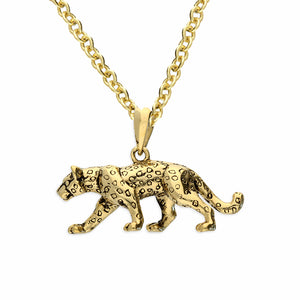 This stunning, high quality pendant is made from solid 925 sterling silver and plated in 24k gold. The design is made into the shape of a leopard.


A leopard symbolizes physical strength, perseverance, confidence, power, intelligence, beauty, independence, leadership, steadfastness, swiftness, gracefulness and female mystique.


The leopard animal symbol is a very ancient and powerful totem. For its holders, the leopard signifies the ability to do many tasks at once, ability to see in the dark and being powerful even in the night.


Perfect as a special lucky gift for someone you care about or to wear yourself as a means of expressing your individuality and identity.


Comes ready in a Gift Box.


Pendant Approximate Measurements- 2.44cm/0.96inches in width x 0.95cm/0.37inches in height

Approximate Solid 925 Sterling Silver 24k Gold Plated Chain length - 45.7cm/18".