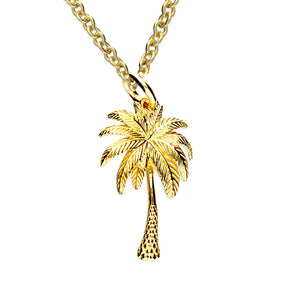 This stunning, high quality pendant is made from solid 925 sterling silver made into the shape of a palm tree which is plated in 24k gold.


The palm branch is a symbol of victory, triumph, peace, and eternal life originating in the ancient Near East and Mediterranean world. The palm (Phoenix) was sacred in Mesopotamian religions, and in ancient Egypt represented immortality.


Perfect as a special gift for someone you care about or to wear yourself as a means of expressing your individuality and identity. Comes ready in a Gift Box.


Approximate Measurements:

Pendant - 1.3cm/0.51inches in width x 2.4cm/0.94inches in height
Solid 925 Sterling Silver Chain length - 45.72cm/18".