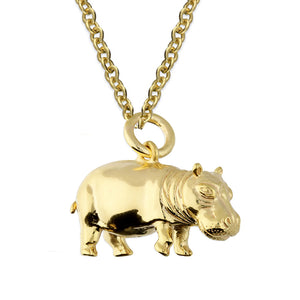 This stunning, high quality pendant is made from solid 925 sterling silver and plated in 24k gold. The design is made into the shape of a hippo.


The hippopotamus spirit animal reminds you that you are born great, and you have the potential to become whoever you want to be. The hippopotamus symbolism demonstrates strength and courage, calmness during times of crisis, maternal instincts, and the ability to navigate through your emotions with clarity.


Perfect as a special lucky gift for someone you care about or to wear yourself as a means of expressing your individuality and identity.


Comes ready in a Gift Box.


Pendant Approximate Measurements 2cm/0.78inches in width x 1cm/0.39inches in height

Approximate Solid 925 Sterling Silver 24k Gold Plated Chain length - 45.7cm/18".