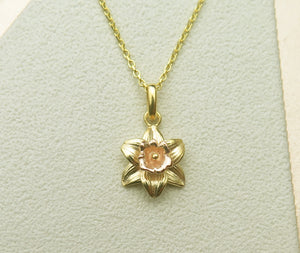 This stunning, high quality pendant is made from solid 925 sterling silver with high quality 24k Rose Gold and Gold plating with the theme of the famous Welsh Daffodil.
In

 

Wales, the daffodil is a symbol of our patron saint, David, (Dewi Sant in Welsh) and of rebirth and faithfulness because they bloom every year even after the harshest winters.
The daffodil also represents the Welsh archers who fought bravely in a field of leeks, and as a reminder of their bravery and loyalty, Lloyd George wore the daffodil on St David's day and encouraged its use at the investiture of the Prince of Wales in 1911.

Perfect as a special Welsh gift for someone you care about or to wear yourself as a means of expressing your individuality and identity.

Comes ready in a Gift Box.
Pendant: 1.1cm/0.43" in width x 1.5cm/0.59" in overall height.
Solid 925 Sterling Silver Gold Plated Adjustable Chain length: 40cm/16"-45.7cm/18".