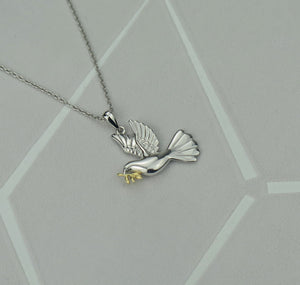 This stunning, high quality pendant is made from solid 925 sterling silver made into the shape of a dove of peace with 24k gold plating.
The dove represents peace of the deepest kind. It soothes and quiets our worried or troubled thoughts, enabling us to find renewal in the silence of the mind. The dove's roles as spirit messenger, maternal symbol and liaison impart an inner peace that helps us to go about our lives calmly and with purpose.
Perfect as a special lucky gift for someone you care about or to wear yourself as a means of expressing your individuality and identity. Comes ready in a Gift Box.
Pendant - 2cm/0.79inches in width x 2cm/0.79inches in height
Solid 925 Sterling Silver Chain length - 45.7cm/18".