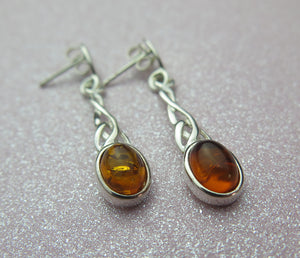 This stunning, high quality pendant is made from real genuine cognac amber and is held together as earrings with solid 925 sterling silver made into the shape of a triquetra knot.


Cognac Amber is an incredibly rare find, it is formed from tree resin which has fossilised over millions of years, producing the gemstone known as amber. Cognac amber resembles the rich brown color of French brandy, and darker hues rank among the more sought-after shades of amber.


The Celtic knot symbol, is also referred to as the mystic knot, or the endless knot where there is no defined beginning or end. The spiritual meaning of this symbol refers to beginnings and endings of life or relationships. In this case, this knot represents endless love and can be given or worn as a token of affection.


Comes ready in a Gift Box.


Approximate Measurements:
0.8cm/0.31inches in width x 3.7cm/1.46inches in overall height.