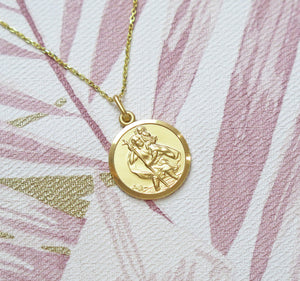 This beautiful sterling silver Saint Christopher Pendant is crafted in 925 sterling silver and plated in 24k gold.


One of the 14 Auxiliary Saints, Saint Christopher is the patron saint of all travellers. The name Christopher means Christ bearer in Greek, or one who carries Christ. One of the most famous and treasured stories about St. Christopher is the story of the child he found and then carried across a mighty river.


In addition to being the patron saint of travellers, Saint Christopher is believed to protect people from epilepsy, lightning, storms, pestilence, and floods. Many soldiers also pay tribute to Saint Christopher by wearing his medal or carrying a prayer card with them.


This pendant is the perfect gift for protection and/or faith, or as a gift to yourself.


The Pendant comes with a Sterling Silver Chain measuring 45.7cm/18", shipped complete in a quality jewellery presentation box.

The Pendant measures approximately 1.9cm/0.75" in diameter excluding its bail.