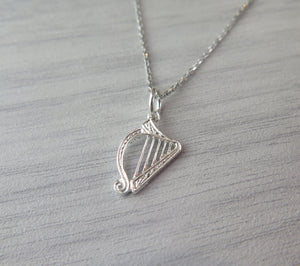 A highly attractive Sterling Silver Pendant crafted into the shape of the Irish Harp. It will delight lovers of all things Irish, and the unique and turbulent history of the country.
Emblazoned on the Irish Coat of Arms is the Irish Harp, which has long been associated with royalty. In fact, it's believed that the strings of the harp represent the arms of the king.

The Irish harp is featured on the Coat of Arms because Britain associated themselves with Ireland and Scotland. The harp has 3 common interpretations. One is that it represents a composed person that has good judgement. It is also seen as a mysterious bridge that can be crossed to and from Earth and Heaven.

The Pendant comes with a Sterling Silver Chain measuring 45.7cm/18", shipped complete in a quality jewellery presentation box.
The Pendant measures approximately 1cm/0.39" in width x 1.8cm/0.70" in overall height.