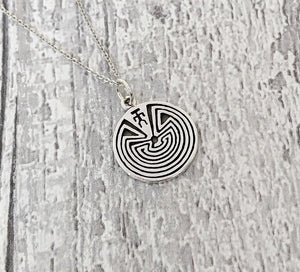 Discover the profound symbolism of our Labyrinth Circle Sterling Silver Pendant Necklace – a wearable emblem of sacred space, wholeness, and spiritual journeys. Meticulously crafted with precision, this pendant is not just jewelry; it's a representation of the ancient labyrinth symbol, accompanied by an 18" sterling silver chain and elegantly presented in a gift box.


Specifications:

Dimensions: Experience the intricate beauty of a 15 mm diameter circle, embodying the timeless symbolism of the labyrinth.
Weight: A lightweight 2.42 grams ensures comfortable wear without compromising the pendant's significance.
Material: Crafted from solid sterling silver, this pendant is a tangible expression of quality and enduring elegance.
Included 18" Sterling Silver Chain:
Complete your ensemble effortlessly with the included 18" sterling silver chain. Its adjustable length allows for versatile styling, ensuring the pendant gracefully adorns your neckline.


Symbolism:
The labyrinth, a timeless symbol of sacred space and spiritual journeys, guides its wearer on a path inward, toward the center of wholeness, and then back outward again. Unlike a maze, a labyrinth has a singular, purposeful path without dead ends, symbolizing the focused journey within oneself.


Versatility:
Wear this pendant as a reminder to focus on your unique inner journey. Its versatility allows it to seamlessly transition from everyday wear to moments of meditation and spiritual reflection.


Presentation Gift Box:
Elegantly presented in a specially designed gift box, our Labyrinth Circle Sterling Silver Pendant Necklace is more than just a piece of jewelry – it's a thoughtful and meaningful gift. Unveil the beauty and significance of the labyrinth symbol, creating an experience of wholeness and sacred space.

Embark on your spiritual journey with the Labyrinth Circle Sterling Silver Pendant Necklace, a symbol of timeless elegance and profound symbolism.