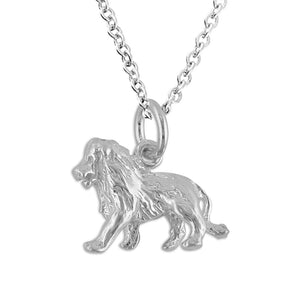 This stunning, high quality pendant is made from solid 925 sterling silver made into the shape of a lion.


The lion is the symbol of courage and personal strength and power: As a spirit animal, the lion is mostly associated with courage and representation of our personal strength and power. The lion also represents the most persistent fighter in the face of obstacles and life challenges.


Perfect as a special lucky gift for someone you care about or to wear yourself as a means of expressing your individuality and identity. Comes ready in a Gift Box.


Approximate Measurements:

Pendant - 1.7cm/0.67inches in width x 1.2cm/0.47inches in height
Solid 925 Sterling Silver Chain length - 45.7cm/18".