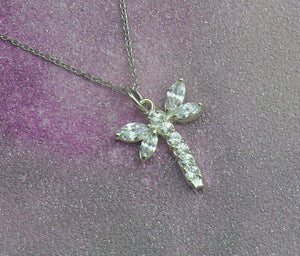 This stunning, high quality pendant is made from solid 925 sterling silver made into the shape of a dragonfly with high quality Czech crystals.
In almost every part of the world, the Dragonfly symbolizes change, transformation, adaptability, and self-realization. The change that is often referred to has its source in mental and emotional maturity and understanding the deeper meaning of life. In many cultures the dragonfly symbolises good luck.
Perfect as a special lucky gift for someone you care about or to wear yourself as a means of expressing your individuality and identity. Comes ready in a Gift Box.
Pendant Measurements - 1.6cm/0.63inches width x 1.9cm/0.75inches height
Solid 925 Sterling Silver Adjustable Chain length - 38.1cm/15" - 45.7cm/18".