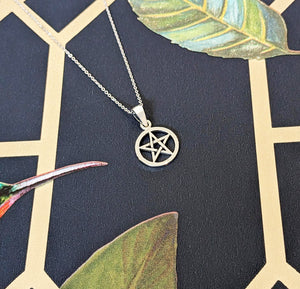 Introducing our Small Sterling Silver Pentacle Pendant Necklace – a subtle yet powerful symbol of spirituality and mysticism. Crafted with precision, this pendant is a delicate representation of the pentacle, a sacred emblem rich in meaning and tradition.


Design:
The small pentacle pendant, crafted from sterling silver, features intricate details that capture the essence of this age-old symbol. Its compact size adds a touch of understated elegance, making it suitable for everyday wear while carrying profound spiritual significance.


Material:
Made from high-quality sterling silver, this pendant is a testament to both craftsmanship and durability. The silver gleams with a timeless luster, adding a subtle radiance to your neckline and ensuring the pendant becomes a cherished accessory.


Included 18" Sterling Silver Chain:
Complete your look effortlessly with the included 18" sterling silver chain. The adjustable length allows for versatile styling, ensuring the pentacle pendant rests gracefully against your neckline, creating a harmonious balance.


Versatility:
Whether you wear it as a symbol of personal spirituality or as a fashion statement, the Small Sterling Silver Pentacle Pendant Necklace seamlessly transitions from casual to formal occasions, making it a versatile addition to your jewelry collection.


Symbolism:
The pentacle, often associated with protection and spirituality, holds deep significance across various cultures and beliefs. Wear this pendant as a personal emblem of your journey, embracing the symbolism and energy it carries.


Presentation Gift Box:
Elegantly presented in a specially designed gift box, this Small Sterling Silver Pentacle Pendant Necklace is not just a piece of jewelry but a thoughtful and meaningful gift. Unbox the magic, and share the spiritual significance with someone special or treat yourself to a symbol of timeless elegance.

Embrace the subtle power of the pentacle with this beautifully crafted pendant necklace, and let it become a cherished part of your everyday style and spirituality.

The pendant itself measures approximately 1.5cm/0.59"