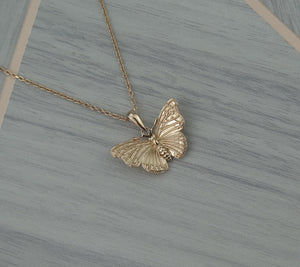 This stunning, high quality pendant is made from solid 925 sterling silver and plated with 24k rose gold made into the shape of a butterfly.
The butterfly is considered a symbol of good luck. In the east, the butterfly can represent a long life, youthful maidens or marital bliss. The ancient Greeks believed that butterflies were the souls of the departed. Universally the butterfly is symbolic of metamorphosis, rebirth and renewal, beauty and the transitory nature of beauty itself.
Perfect as a special gift for someone you care about or to wear yourself as a means of expressing your individuality and identity. Comes ready in a Gift Box.
Pendant Measurements - 2cm/0.79inches width x 1.2cm/0.47inches overall height
Solid 925 Rose Gold Plated Sterling Silver Chain length - 45.7cm/18".