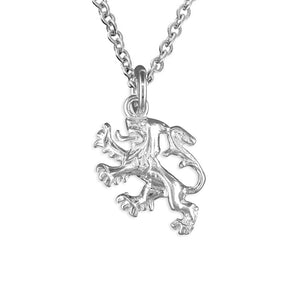 This stunning, high quality pendant is made from solid 925 sterling silver made into the shape of the Scottish lion.


Since 1603, the Lion rampant of Scotland has been incorporated into both the royal arms and royal banners of successive Scottish then British monarchs in order to symbolise Scotland; as can be seen today in the Royal Standard of the United Kingdom.


Perfect as a special lucky gift for someone you care about or to wear yourself as a means of expressing your individuality and identity. Comes ready in a Gift Box.


Approximate Measurements:

Pendant - 1.8cm/0.71inches in width x 1.3cm/0.51inches in height
Solid 925 Sterling Silver Chain length - 45.7cm/18".