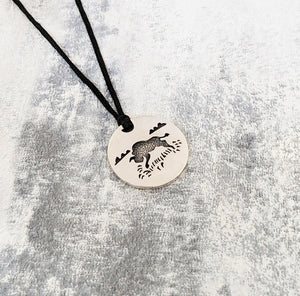 Unleash the spirit of the wild with our Bison Sterling Silver Pendant, a majestic embodiment of strength and resilience. This stunning pendant, measuring approximately 2.2 cm in diameter (equivalent to approximately 0.87 inches), captures the essence of the mighty bison. Paired with an adjustable rope chain, and elegantly presented in a thoughtful gift box, this pendant is more than jewelry—it's a symbol of untamed beauty and endurance.


Key Features:

Pendant Dimensions: Approximately 2.2 cm in diameter (0.87 inches).
Chain: Adjustable rope chain for customizable wear and versatility.
Material: Crafted with precision from high-quality sterling silver.
Design: The Bison pendant showcases intricate detailing, capturing the strength and grace of this iconic symbol.
Adjustable Length: The rope chain allows you to personalize the length for your desired style.
Presentation: Comes in a stylish presentation gift box, making it an ideal and meaningful gift.
Symbolism:
The bison, revered for its symbolic significance in various cultures, represents strength, endurance, and the untamed spirit of the wilderness. This pendant encapsulates the essence of these noble qualities, inviting wearers to embrace their own resilience and power.


Dimensions in Inches:

The pendant has an approximate diameter of 0.87 inches.
Versatility and Elegance:
Whether worn as a daily reminder of strength or for special occasions, the Bison Sterling Silver Pendant with Adjustable Rope Chain seamlessly blends versatility with an elegant design. The adjustable length ensures a perfect fit for any neckline.


Ideal Gift:
Presented in a charming gift box, this pendant makes for a thoughtful and stylish gift for nature enthusiasts, wildlife lovers, or anyone seeking a powerful symbol of strength and endurance.

Embrace the untamed beauty of the wilderness with our Bison Sterling Silver Pendant. An homage to the enduring spirit of the bison, this pendant is a captivating accessory that speaks to the strength within. Elegantly presented in a gift box, it's ready to become a cherished addition to your collection or a meaningful gift for someone special.