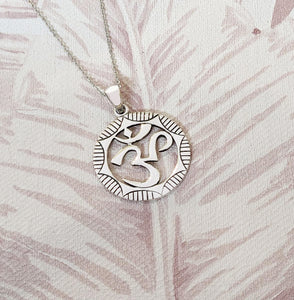 Introducing our Om Symbol Pendant – a profound fusion of sacred symbolism and expert craftsmanship. Crafted with precision, this medium-sized pendant, measuring 23 mm in diameter, is a timeless piece that encapsulates the spiritual significance of the Om symbol. The pendant is made from solid sterling silver and is accompanied by an 18" sterling silver chain, creating a complete package of spiritual meaning and aesthetic beauty, elegantly presented in a thoughtfully designed gift box.


Symbolism:
Om, or AUM, is both a sound and a symbol deeply revered in Hindu traditions. Hindus consider Om as a sacred symbol of spiritual knowledge, utilizing its sound as a powerful mantra in chanting and meditation. The three sounds within Om represent the states of waking, dreaming, and sleeping, while the silence that surrounds it symbolizes the blissful state of Turiya – where the self recognizes its identity with the supreme.


Design:
In the traditional written symbol of Om, each curve holds its unique significance, mirroring the states represented in its sound. The large lower curve signifies the waking world, the upper left curve symbolizes deep sleep, and the connecting curve represents the dream state. The open semi-circle at the top signifies the infinite, while the point is linked to the state of absolute consciousness (Turiya).


Dimensions and Weight:
With a diameter of 23 mm and weighing 3.11 grams, this pendant strikes a perfect balance between meaningful symbolism and comfortable wear. The solid sterling silver construction ensures durability, making it a cherished piece for years to come.


Versatility:
Wear this pendant as a daily reminder of spiritual connection or on special occasions to carry the essence of Om with you. The markings on the reverse of the pendant mirror the front, ensuring a seamless appearance even if it flips over while wearing.


Complete Package:
This Om Symbol Pendant comes complete with an 18" sterling silver chain, meticulously chosen to complement the design, and is elegantly presented in a thoughtfully designed gift box. Unbox the divine resonance of Om and embrace the spiritual journey with this beautifully packaged piece.