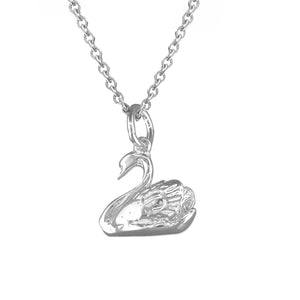 This stunning, high quality pendant is made from solid 925 sterling silver made into the shape of a swan.


The Swan is a symbol of purity, beauty, grace, love and elegance, but it can also symbolize divination and balance. Also, we should have in mind that swans are connected with water, so it means that they may symbolize fluidity, creativity and depth, too.


Perfect as a special gift for someone you care about or to wear yourself as a means of expressing your individuality and identity. Comes ready in a Gift Box.


Approximate Measurements:

Pendant - 1.7cm/0.67inches in width x 1.1cm/0.43inches in height.
Solid 925 Sterling Silver Chain length - 45.7cm/18".