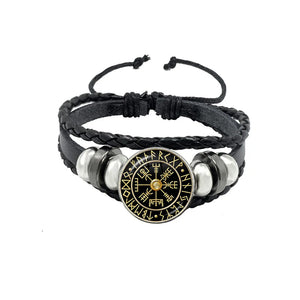 Introducing our Helm of Awe and Terror Viking Symbol Men's Adjustable Black Leather Bracelet – a striking blend of Viking mysticism and rugged style. This bracelet features the Helm of Awe symbol intricately etched onto a genuine black leather band.


The Helm of Awe, also known as "Aegishjalmur," is a powerful Viking symbol associated with protection, strength, and the ability to strike fear into adversaries. Crafted with meticulous attention to detail, our bracelet embodies the ancient spirit of Viking warriors. The adjustable leather strap ensures a comfortable fit for any wrist size.


Wear our Helm of Awe and Terror Viking Symbol Bracelet to channel the fearless essence of Viking lore, whether as a nod to your Nordic heritage, a symbol of personal strength, or simply as a rugged and eye-catching fashion statement. This bracelet is a reminder of the indomitable spirit of Viking warriors and a powerful addition to your style.

Each bracelet comes complete in a velvet gift bag.

The bracelet itself measures approximately 18cm/7.09" and adjusts to 24cm/9.45".