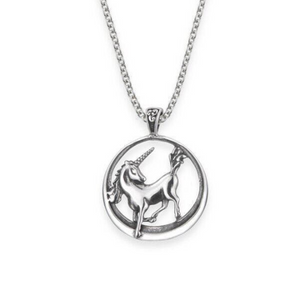 This stunning, high quality pendant is made from solid 925 sterling silver, featuring a Unicorn, inspired by books such as the "Harry Potter" series and traditional folklore.
Often considered the most wondrous of all mythical creatures, the unicorn is also a symbol of magic, miracles, and enchantment. The magical and enchanting unicorn appears to only a rare few and has the ability to bestow magic, miracles and wisdom to those who are pure of heart and virtuous in their deeds.
A perfect buy to for lovers of fantasy books, wizards and witchcraft.
Comes ready in a Gift Box.
Pendant: 2.2cm/0.86" x 2.9cm/1.14"
Solid 925 Sterling Silver Adjustable Chain length: 40cm/16"-45.7cm/18".