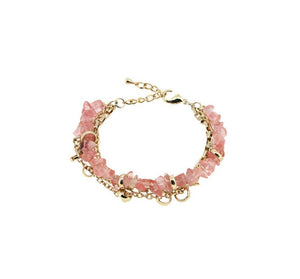 This beautiful and unique bracelet features a line of polished Watermelon Quartz gemstones with gold plated rings and three different styled chains all gold plated. All gold plated chains are attached to the one bracelet creating a highly fashionable and unique look.
Watermelon Quartz is a powerful crystal that is said not only to attract love but it is also said to soothe, harmonise and balances your life and inner wellbeing.
Each polished gemstone is around 0.5cm x 0.5cm however they are all different sizes to create the desired effect. The bracelet is adjustable and is around 18.5 – 23cm in length and comes ready in a Gift Bag.